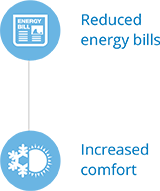 Discover smart possibilities.
Consumers Energy knows that when it comes to your home's comfort, smart possibilities start with one simple ingredient: the right information. As a homeowner, you want to be sure the energy efficient changes you make are right for you, your home and your family. Our Home Energy Analysis program is here to help you make the best choices for your home and budget.
As part of the in-home assessment, a trained analyst performs a visual inspection of your home, installs energy efficiency measures where needed, and shares a customized summary report with energy-saving tips and recommendations for your home.
Are you ready to take the next step? We're here to help.